Hey guys,
I finally finished my enclosure for the Raspberry Pi B Rev. 2 with the Hifiberry Amp (prototype) and is running with recent Volumio distribution.
The enclosure itself is made by aluminium die casting and is usually used for effects units for guitars and other music instruments.
Most challenging thing was to get the cut-outs for USB- and Ethernet-port into the enclosure.
The front LED is connected to GPIO pin 17 and is lighted up at system startup by the wiringPi package.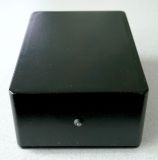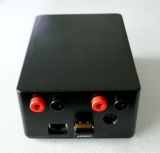 Best regards,
Stefan